In the first week of November 2022, Iran's Foreign Minister Hossein Amir-Abdollahian stated that Iran had supplied drones to Russia before the beginning of the Ukraine crisis. Iran acknowledged the delivery of drones to Russia in February. The Russian President's spokesman Dmitry Peskov rejected claims about Russia's use of Iranian UAVs in the Ukrainian conflict.[i]

On the other hand, western powers as well as Kyiv have claimed and condemned the use of Iranian drones in Ukraine. United States' State Department spokesperson Ned Price stated that there is abundant evidence of Russia's use of Iranian drones in Ukraine while raising the issue with United Kingdom and France in a closed door UNSC meeting.[ii] France, Britain and Germany called in the United Nations for an impartial investigation into the use of Iranian drones in Ukraine by Russia.[iii] Moreover, Ukraine has said that around 400 Iranian drones have been used by Russia against the civilian population of Ukraine.[iv]

Iran's UAV manufacturing capabilities

The reported use of Iranian drones in Ukraine by Russia has brought focus to Iran's air defence capability, especially pertaining to the manufacturing of UAVs. This raises questions about Iran's defence manufacturing industry. Iran got interested in manufacturing low-cost UAVs during the Iran-Iraq war in order to counter the high cost and high attrition rates of combat aircrafts. UAVs provide a certain level of manoeuvrability to Iran in the region; Tehran not only uses UAVs for its traditional and conventional security roles but also for strengthening its stakes in the region by supplying them to its support groups and proxies.[v] According to some analysts and statements by Iranian officials, the country emerged as one of the top UAV manufacturers in the region, and its UAVs are capable of carrying out reconnaissance missions along with hitting targets with precision weapons.[vi]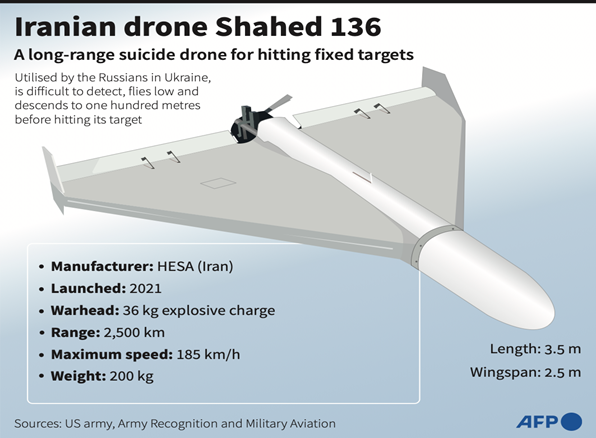 Russia's nascent UAV industry

Russian import of Iranian drones has also brought attention to Moscow's external dependence for UAVs when it has a fairly robust and thriving conventional arms manufacturing industry. Preceded by the US, Russia is the second largest conventional arms exporter[vii] and depends on the consequent hard currency gains to sustain some of its important domestic industries.[viii] It is to be noted that Russia exports a variety of weaponry, including advanced aircraft, air defence systems, radars and missiles. However, its UAV manufacturing capability is not up to the mark, and has only recently begun to focus on the manufacture of UAVs.

The Deputy Chairman of Russia's Security Council Dmitry Medvedev said that Russia will launch mass production of UAVs, as they have proven very effective in the special military operation in Ukraine.[ix] Russia is pro-actively enhancing its UAV manufacturing capability; as of September 2022, there were 33 drones' start-ups in Russia.[x] Moscow lags behind in UAV manufacturing due to regulatory stumbling blocks; for instance industrial use of drones is illegal in Russia and drone operators need to be certified as aircraft pilots.[xi] In addition, the shortage of semiconductors used for sensors and on-board navigation devices has impacted Moscow's UAV manufacturing capability. Russia lacks domestic capability to produce these microchips and it is unable to import them due to the restrictions imposed by tough western trade sanctions.[xii]

Efficacy of UAVs in a war zone

Drones are preferred UAVs to be used in the war zone as they are akin to guided flying bombs that can be used as cheap cruise missiles. These are designed to fly at lower altitudes and slow speed while evading radars. They are relatively cheap and cause significant damage with ability to explode on collision. Iranian drones can be a preferred choice as Tehran has improvised its domestic designs and has been incrementally increasing range, accuracy and survivability of long-range drones and loitering munitions.

Sanctions on Moscow and Tehran

Despite denial by Russia about use of Iranian drones in Ukraine, the western allies of Kyiv have imposed additional sanctions on Moscow as well as Tehran. The US imposed sanctions on Iranians and Russians engaged in the export of drones used in Ukraine; the US State Department sanctioned three Iranian entities, a Russian paramilitary, two Russian nationals, and two transportation firms based in the United Arab Emirates. Two Iranian companies, namely Shahed Aviation Industries Research Center and Qods Aviation Industries, have been sanctioned for production of Shahed-136 and Mohajer-6 drones, respectively.

In addition, the Islamic Revolutionary Guard Corps Aerospace Force of Iran has been sanctioned for facilitation of supply of drones to Russia. The Wagner Group, a private Russian military company has been sanctioned for acquiring Iranian drones while two Russian individuals named Abbas Djuma and Tigran Khristoforovich Srabionov have been sanctioned for their involvement in Wagner's acquisition of Iranian drones. The US has also sanctioned the UAE based transportation firms called Success Aviation Services FZC and i-Jet Global DMCC for coordinating their transportation between Iran and Russia.[xiii]

Similarly, the European Union (EU) and United Kingdom have imposed sanctions on Iranian individuals including Major General Mohammed Hossein Bagheri, the current Chief of Staff of Iran's armed forces, logistics officer General Sayed Hojatollah Qureishi and Brigadier General Saeed Aghajani, commander of the IRGC's drone program. The EU and UK have also sanctioned Shahed Aviation for supplying Iranian kamikaze drones to Russia.[xiv]

Dampening of JCPOA revival

Along with attracting new sanctions, the reported use of Iranian drones has dampened the prospects for revival of the Joint Comprehensive Plan of Action (JCPOA). The biggest blow to the deal comes from possible breach of resolution by the reported export of Kamikaze drones. Even though the JCPOA-induced ban on exports of conventional arms on Iran expired in October 2020, ban on activities related to ballistic missiles will expire in October 2023. The US, UK, France and Germany have pointed to the possible breach of United Nations Security Council Resolution (UNSCR) 2231 that led the UNSC to endorse the deal in 2015.

The US argues that the UNSCR 2231 clause requiring prior UNSC approval for the transfer of certain military equipment and weapons to and from Iran till October 2023 is violated by the transfer of Iranian drones to Russia and their use in Ukraine. If the use of Iranian drones by Russia in Ukraine is proven, it not only has the potential to dampen the revival of JCPOA but can also lead to the snapback of multilateral sanctions on Tehran. UNSCR 2231 lists drones 'capable of delivering at least a 50 kg payload to a range of at least 300 km' in the categories of weapons needing prior UNSC approval. However, the Iranian-made Shahed drones can have a range of over 1,000 km and can carry 40 kg of explosives.[xv]

Konstantin Vorontsov, the acting Deputy Director of the Department for Non-proliferation and Arms Control of the Ministry of Foreign Affairs in the Russian Federation referred to the US' claim of violation of UNSCR 2231 as a ploy to pull apart the nuclear deal. He emphasized that the stories on the alleged sale of Iran-made drones to Russia are being put forward by the US with an aim of finalizing the plan of dismantling the nuclear agreement, from which it withdrew in 2018.[xvi]

Arms trade in the region

The reported use of Iranian drones in Ukraine by Russia has certain regional implications. WANA countries that feel threatened by Iran are stocking up on defence equipment including drones as well as advanced air defence systems. Alternatively, it can also be said that extra-regional actors that are concerned with Iran's drone manufacturing capability and transfer are supplying related defence equipment to their regional partners. Saudi Arabia and the UAE have requested to buy sizable quantities of interceptor missiles from American defence companies to restock their reserves.

As per the US State Department, UAE has requested to buy 96 Terminal High Altitude Area Defense (THAAD) missile rounds, two THAAD Launch Control Stations and two THAAD Tactical Operations Stations[xvii] as part of a proposed US$ 2.245 billion deal. Saudi Arabia has requested 300 MIM-104E Patriot Guidance Enhanced Missile-Tactical Ballistic Missiles (GEM-T) as part of a US$3.05 billion deal.[xviii] The US State Department has also approved the potential sale of an anti-drone system to Qatar in a US$1 billion deal.[xix]

Israel is looking forward to signing the Middle East Air Defence Alliance (MEAD) with a number of Arab countries. It aims to jointly defend against drones and missiles used by Iran and its support groups in the region. Additionally, it has reportedly agreed to sell air defence system to the UAE.[xx] Similarly, Turkish defence firm Baykar has delivered 20 battle-tested armed drones to the UAE.[xxi]

The use of Iranian equipment in the regional conflicts has irked the concerned actors since long, however, its reported use in Ukraine has focused these countries on strengthening their air defence systems while collecting ammunition for deterrence purposes. Houthi strikes on Saudi and Emirati facilities have already brought these issues to the fore in the recent years. For instance, the targeting of UAE facilities by the Houthi drones in February 2022 led Washington to announce that it would send guided-missile destroyer USS Cole and fifth-generation fighter aircraft to the UAE.[xxii] Similarly, a Saudi-led coalition launched air strikes in Houthi-held areas in Yemen in response to the attack on its energy facility in March 2022.[xxiii] The reported use of Iranian drones in Ukraine has provided a boost to ongoing arms deals in the region.

Conclusion

Apart from the above-mentioned implications for Iran, the reported use of Iranian drones by Russia in Ukraine has some unintended consequences for Tehran. Proficiency of Iranian UAVs has been demonstrated repeatedly in the region since its use in the Yemen conflict, operations against the Islamic State (ISIS) as well as in support of the Assad government in Syria. However, its use in Ukraine has put the spotlight on the efficiency and precision of the UAVs produced in Iran. There are more than 20 countries that either have Iranian drones in their inventory or want to buy them.[xxiv] Iran is also extending drone diplomacy in Central Asia; Tehran inaugurated a drone factory in Tajikistan in May 2022.

Secondly, the optics of being able to influence an extra regional event is an important achievement for a regional power like Iran. It is not a small feat for Iran, which has been under sanctions for the past few decades, to have a flourishing UAV industry. Iran has unveiled a massive underground UAV Facility and flaunted its drone power in nationwide drills with nearly 150 UAVs in August 2022. Apart from reaping the economic benefits, Iran is using the drones to achieve its geo-political objectives. Mohammad Javad Karimi Ghoddusi (Qoddusi), a member of the Iranian Parliament's National Security and Foreign Policy Committee said that Iran gives drones to other countries in order to help them provide for their own security and the security of the region.[xxv] Nevertheless, Iran's growing capabilities is disconcerting for its neighbours and Western powers.
*****
*Dr. Lakshmi Priya, Research Fellow, Indian Council of World Affairs, New Delhi.
Disclaimer: Views expressed are personal.
Endnotes
[i] Russia denies Military use of Iranian Drones, teleSUR, October 18, 2022, available at https://www.telesurenglish.net/news/Russia-Denies-Military-Use-of-Iranian-Drones-20221018-0014.html (Accessed on November 28, 2022)
[ii] Atwood Kylie, Paul LeBlanc. US State Department says there's 'abundant evidence' Russia is using Iranian drones in Ukraine, CNN, available at, https://edition.cnn.com/2022/10/19/politics/iranian-drones-russia-ukraine/index.html (Accessed on November 28, 2022)
[iii] European countries urge UN probe of Iran drones in Ukraine, Al-Arabiya News, October 22, 2022, available at https://english.alarabiya.net/News/world/2022/10/22/European-countries-urge-UN-probe-of-Iran-drones-in-Ukraine-  (Accessed on November 28, 2022)
[iv] Russia's use of Iranian drones in Ukraine 'appalling': Blinken, The Hindu, October 28, 2022, available at,  https://www.thehindu.com/news/international/russias-use-of-iranian-drones-in-ukraine-appalling-blinken/article66062705.ece  (Accessed on November 28, 2022)
[v] Douglass Barrie, Iran's Drone Fleet, United States Institute of Peace, July 01, 2021, available at,  https://iranprimer.usip.org/blog/2020/aug/20/irans-drone-fleet  (Accessed on November 27, 2022)
[vi] Iran achieves self-sufficiency in drone manufacturing: commander, Xinhua Net, September 09, 2022, available at, https://english.news.cn/20220909/3e49798ab7fe4bb4a7d1f7140df80f00/c.html#:~:text=Iran%20is%20among%20the%20region's,hitting%20targets%20with%20precision%20weapons. (Accessed on November 27, 2022)
[vii] Infographic: Which countries buy the most Russian weapons?, Al-Jazeera, March 09, 2022, available at https://www.aljazeera.com/news/2022/3/9/infographic-which-countries-buy-the-most-russian-weapons (Accessed on November 30, 2022)
[viii] Russian Arms Sales and Defence Industry, Congressional Research Service, October 14, 2021, https://crsreports.congress.gov/product/pdf/R/R46937 (Accessed on November 30, 2022)
[ix] Russia to launch mass production of effective drones — Medvedev, TASS, Russian News Agency, October 14, 2022, available at, https://tass.com/defense/1523079 (Accessed on November 30, 2022)
[x] Drones Startups in Russia, Tracxn, September 15, 2022, available at, https://tracxn.com/explore/Drones-Startups-in-Russia (Accessed on November 30, 2022)
[xi] Russia Plans First Mass Drone Production – Kommersant, The Moscow Times, June 24, 2022, available at, https://www.themoscowtimes.com/2022/06/24/russia-plans-first-mass-drone-production-kommersant-a78091 (Accessed on November 30, 2022)
[xii] Aldroubi Mina, Robert Tollast, Iran and Russia drone alliance in Ukraine casts shadow on nuclear deal, The National, September 15, 2022, available at, https://www.thenationalnews.com/mena/iran/2022/09/15/iran-and-russia-drone-alliance-in-ukraine-casts-shadow-on-nuclear-deal/  (Accessed on December 01, 2022)
[xiii] U.S. Sanctions Iran-Russia Drone Facilitators, The Iran Primer, United States Institute of Peace, November 16, 2022, available at, https://iranprimer.usip.org/blog/2022/nov/16/us-sanctions-iran-russia-drone-facilitators  (Accessed on December 01, 2022)
[xiv] EU, U.K. Announce Sanctions Over Iran's Drone Deliveries to Russia, Radio Free Europe, Radio Liberty, October 20, 2022, available at, https://www.rferl.org/a/eu-sanctions-iran-drone-exports-russia/32093051.html  (Accessed on December 01, 2022)
[xv] Q & A: Snapback, Drones, Missiles and The Iran Nuclear Deal, Iran International, March 11, 2022, available at https://www.iranintl.com/en/202211035324 (Accessed on December 02, 2022)
[xvi] West asserts claim on Iran's drones to dismantle JCPOA: Russian diplomat, Islamic Republic News Agency, October 25, 2022, available at https://en.irna.ir/news/84922587/West-asserts-claim-on-Iran-s-drones-to-dismantle-JCPOA-Russian (Accessed on December 01, 2022)
[xvii] State Department approves sale of THAAD and Patriot to UAE and Saudi Arabia, News AM, available at https://www.dsca.mil/press-media/major-arms-sales/united-arab-emirates-terminal-high-altitude-area-defense-thaad-system (Accessed on December 02, 2022)
[xviii] Paul Iddon, UAE And Saudi Arabia Seek More U.S. Interceptor Missiles Amid Talk of Middle East Air Defence Alliance, available at https://www.forbes.com/sites/pauliddon/2022/08/04/uae-and-saudi-arabia-seek-more-us-interceptor-missiles-amid-talk-of-middle-east-air-defense-alliance/?sh=13144ea41aa8 (Accessed on December 02, 2022)
[xix] Kanishka Singh, U.S. State Department approves potential anti-drone system sale to Qatar for $1 billion, Reuters, November 30, 2022, available at https://www.reuters.com/world/us/us-state-department-approves-potential-drone-sale-qatar-1-billion-2022-11-29/ (Accessed on December 02, 2022)
[xx]Alexander Cornwell, John Irish, Exclusive: Israel to sell air defence system to United Arab Emirates, September 23, 2022, available at https://www.reuters.com/world/middle-east/exclusive-israel-sell-air-defence-system-united-arab-emirates-sources-say-2022-09-22/ (Accessed on December 03, 2022)
[xxi] Orhan Coskun, Exclusive: Turkey sells battle-tested drones to UAE as regional rivals mend ties, Reuters, September 21, 2022, available at https://www.reuters.com/world/middle-east/exclusive-turkey-sells-battle-tested-drones-uae-regional-rivals-mend-ties-2022-09-21/ (Accessed on December 03, 2022)
[xxii] Lakshmi Priya, Implications of Houthi Drone and Missile Attacks on the UAE, Indian Council of World Affairs, February 11, 2022, available at /show_content.php?lang=1&level=3&ls_id=7043&lid=4783  (Accessed on December 03, 2022)
[xxiii] Anthony Di Paola, Mohammad Hatem, Saudi-Led Coalition Strikes Yemen After Aramco Depot Attack, Bloomberg, March 26, 2022, available at https://www.bloomberg.com/news/articles/2022-03-26/saudi-led-coalition-strikes-yemen-after-aramco-fuel-depot-attack (Accessed on December 03, 2022)
[xxiv] Luke Coffey, Iran's drones allow it to export instability, Arab News, November 25, 2022, available at https://www.arabnews.com/node/2205896 (Accessed on December 04, 2022)
[xxv] Iran Gives Military Drones to Every Country 'That Needs Them', Iran International, April 09, 2022, available at https://www.iranintl.com/en/202209044677  (Accessed on December 04, 2022)