Abstract

Principles of democracy, equality, liberty and justice are the foundations of the American Constitution and society. It guarantees freedom to all its citizens without any bias. Yet, the African-American community continues to grapple with systematic racial inequalities and injustice. As the 'most powerful nation' in the world battles the COVID-19 pandemic, the undercurrents of social and racial unrest have come to the forefront with the killing of George Floyd, a black American, by white police officers. The response from President Trump has further divided  society and raised questions internationally on American democratic values. The paper looks at certain aspects of the deep seated and structural racial bias  prevalent in American society.

The United States has a long history of racial discrimination and segregation of African Americans , which has been used by the majority White population as a tool of control and power projection.  The movement to abolish segregation was successful but the United States continues to be a racially structured society with racial inequalities and lack of opportunities for African Americans and other people of colour. 'A large gap – in education, income, wealth, health and justice – persists particularly between white and black Americans, whose history of slavery, legalised segregation and state-approved terror partly accounts for their ongoing stigmatised status in society.'[1] The recent death of Mr. George Floyd as a result of police brutality reflects the long history of racial violence in the United States. 'Mr. Floyd's death came six weeks after police in Louisville, Kentucky, fatally shot Breonna Taylor, a 26-year-old black woman, during a midnight "no-knock" raid on her home. It came 10 weeks after the killing of Ahmaud Arbery, a 25-year-old black man, who was chased down by a white father and son in a pickup truck as he jogged in his neighbourhood in Glynn County, Georgia'[2] and in the aftermath of Christian Cooper being threatened by false accusation of harassment by a white woman in a park in New York City.

During a pandemic that has disproportionately affected African Americans and brought to the forefront  racial inequalities, these events have led to wide scale protests and social unrest in the United States. In response, President Trump threatened to call in the military to maintain law and order in the cities. In a statement at the White House he said, "….I am mobilising all available federal resources — civilian and military — to stop the rioting and looting, to end the destruction and arson…If a city or a state refuses to take the actions that are necessary to defend the life and property of their residents, then I will deploy the United States military and quickly solve the problem for them."[3] President Trump called the protesters "…professional anarchists, violent mobs, arsonists, looters, criminals, rioters, Antifa, and others".[4]The United States has viewed itself as the beacon of democracy and justice and the right of the people to protest is guaranteed by the U.S. Constitution.[5] Nonetheless, the president willingness to use military force to quell mass protests have alarmed both state governors and the military personnel- serving and retired. These actions have also led to questioning the hypocrisy of the United States by national governments of China, Iran, North Korea, Russia and Venezuela, that have long been accused by the United States of anti-democratic behaviour and suppression of 'people's right to protests and express their views' through use of massive force.

The world's oldest democracy is already experiencing a trust deficit, and now stands accused of double standards. The international reputation of the United States is tarnished but the question is will America be able to overcome this trust deficit within its national consciousness. This paper looks at deep seated racial inequalities within American values of democracy, equality and liberty & justice. These value are the foundations of American political, social and economic life. And yet, many Black Americans feel the inequalities of race have become so systematic that they have become invisible and no longer a topic of debate among policy makers.

American Democracy: The Right to Vote in Crisis

'One person one vote' is the foundation of democracies. 'The inability to fully participate in the democratic process translates into a lack of political power—the power to elect candidates with shared values and the power to enact public policy priorities. Among the many landmark legislative victories of the civil rights movement, the Voting Rights Act of 1965 (VRA) and its subsequent amendments … increased access to the ballot box for a number of people of colour.'[6] However, systematic attempts have been made by states to curtail the voting rights of black Americans in the United States. States such as California, Florida, North Carolina, Nevada and Mississippi among others have bills that make it difficult for voters to register. There are states who have voter ID requirements that disproportionately favour those types of identifications held by whites as valid and largely exclude those held by African Americans. Similar strict ID requirements also leave out Native American voters and other minority communities of colour.

Another issue for black Americans is disenfranchisement due to felonywith people losing the right to vote for minor offence which may not have any connection to electoral process. 'These laws strip voting rights from people with past criminal convictions and right restoration practices vary widely between states. Thirty-one states bar community members from voting, simply based on convictions in their past. But Iowa remains the only state to impose lifetime disenfranchisement for all people with felony convictions, unless the government grants individual rights restoration.'[7] 'Felony disenfranchisement policies have a disproportionate impact on communities of colour. Black Americans of voting age are more than four times as likely to lose their voting rights than the rest of the adult population, with one of every 13 black adults disenfranchised nationally. As of 2016, in four states – Florida (21 percent), Kentucky (26 percent), Tennessee (21 percent), and Virginia (22 percent) – more than one in five black adults was disenfranchised. In total, 2.2 million black citizens are banned from voting. Persons currently in prison or jail represent a minority of the total disenfranchised population. In fact, 77 percent of disenfranchised voters live in their communities, either under probation or parole supervision or having completed their sentence.'[8]
 Image One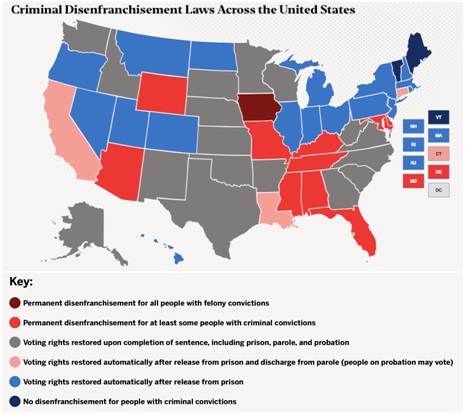 Source: https://www.brennancenter.org/our-work/research-reports/criminal-disenfranchisement-laws-across-united-states

'American adults living in Washington, D.C., Puerto Rico, the U.S. Virgin Islands, Guam, the Northern Mariana Islands, and American Samoa continue to lack full voting rights. In 2016, 3.4 million Americans—most of whom are people of colour—were unable to cast a ballot due to their residency in Washington, D.C., or a U.S. territory.'[9] All these steps have ensured that Black Americans are not able to exercise their democratic right as guaranteed by the U.S. Constitution to all American citizens.

(In)Equality and the Question of Race

Racial inequality is a reality of everyday America. Black Americans continue to be treated unfairly and are more likely to be judged as a threat than an average white American.

This systemic racism has made it difficult for black Americans to achieve social and economic security. For example, Black Americans face a higher mortality rate in the current COVID-19 pandemic. This is because they form a disproportionate share of low-wage workers with no or minimum social security or medical insurance. Due to low wages, they have to continue to work despite risks to their health. They are likely to also work in industries which require them to be in contact with people such as delivery services, cab drivers etc. The pandemic has adversely effected their wage earning and they are more likely to be unable to apply for unemployment benefits due to lack of papers required by the government to claim benefits. 'Sixty-six percent of Latino households and 44 percent of Black households have had a job or wage loss due to the pandemic, compared to 38 percent of White households.'[10]
Image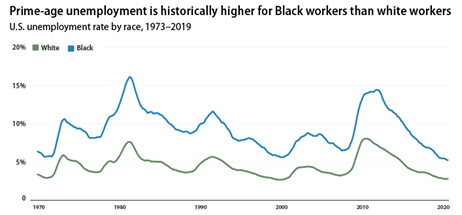 Source: https://www.americanprogress.org/issues/economy/reports/2019/12/05/478150/african-americans-face-systematic-obstacles-getting-good-jobs/

The general lack of employment opportunities is feeding to the growing wealth gap between races in the United States. As the country becomes a 'majority minority nation' that is,  minority communities make a majority of the population rather than White Americans, improving the financial health of families of colour is required to run the economy. 'Currently most Black American households have no savings, with debts exceeding their assets. The lack of wealth is reflected in home ownership as well, with Black American families less likely to be able to afford homes or live in crime-free neighbourhoods. Racial segregation has contributed to persistent disparities in access to public goods such as affordable housing, schools, hospitals, parks etc.'Even education does not ensure equality with post graduate Black Americans likely to earn 30 percent less than their white counterparts.'[11] Income inequality is undermining wealth building in communities of colour nationwide and halting intergenerational mobility causing a cycle of poverty to persist.

Liberty and Justice: Biases in the System

Liberty and justice (along with equality) are the pillars of American values, and yet racial bias ensure that not all have equal access to both. While racial disparities have reduced in the criminal justice system, African Americans have a higher chance of being stopped by police for questioning or mistaking for a criminal. The public health advisory on COVID-19 making wearing masks mandatory in public, has caused anxiety among Black Americans. They fear that wearing a mask, especially a homemade mask, would leave them open to police bias and harassment and possibly, being attacked or killed.

The United States has witnessed growing police violence against Black Americans and people of colour. 'African-Americans are twice as likely to be arrested, and almost four times as likely to experience physical force in an encounter with the police. Today, Black men are sentenced to 19 percent more jail time for committing the exact same crime as White men, and African Americans are jailed at more than five times the rate of whites.'[12] 'Black Americans made up a third of the sentenced prison population in 2018 – nearly triple their representation in the US adult population as a whole. They also make up a disproportionate number of fatal police shootings.'[13]

As stated above racial bias prevented African Americas from accessing quality economic life, including employment and homeownership. Inequality also plagues the education system with Black American students largely going to under-funded and over policed schools in their neighbourhoods.

Conclusion

The United States is a diverse and racially divided society. Its history has been marked by long contests to suppress the Black American voices and accumulate wealth and power in the hands of the White Americans. The United States has outlawed racial discrimination, nonetheless racial inequality and bias remain. They have embedded into the social norms and practises in economic, social and political life of the United States. They have become invisible enablers of anti-black bias. The negative effects of racial differences are very much visible today though stereotypes of Blacks being seen as criminals and low level wage earners rather than as accomplished individuals. The divisions have been brought into sharper focus in the past few years as prejudices against Black Americans has gained wide spread media coverage and been shared thorough social media sites. This has led to questions of how can America call into question the inequalities of other nation states when its own people are facing similar problems.

The killing of George Floyd has brought to the forefront the already present fissures of racial divisions in America. It has led to widespread and sustained protests across the United States with support of some White Americas and other ethnic minorities. This division has been intensified by a lack of empathy by President Trump and his administration and its justification of use of heavily armed soldiers and law enforcement officers to stop the 'rioting' has further divided American society. The use of smoke canisters and pepper balls to dispel protestors near the White House, to clear a path for President Trump to walk to a church for photographs, is a projection of power to his supporters and a deflection from his failures in dealing with national and international issues.President Trump has stated that defunding the police as demanded by some is not possible, but he has signed into law a police reform bill presented by the US Congress. Nonetheless, his inability to reach out to Black community leaders, civil society activists has been criticised.

As the United States prepares for the November presidential elections, it is too early to say if the protests against the killing of Black Americans will effect the results. Nonetheless, as the trial into the killing of George Floyd begins, it is increasingly becoming clear that racism will be an issue on the minds of the voters.
*****
*Dr. Stuti Banerjee, Research Fellow, Indian Council of World Affairs, New Delhi.
Disclaimer: Views Expressed are personal.
End Notes
[1] Fredrick C. Harris, "The invisible hands of racial inequality in the USA," https://en.unesco.org/inclusivepolicylab/sites/default/files/analytics/document/2019/4/wssr_2016_chap_20.pdf, Accessed on 05 June 2020
[2] Deneen l. Brown, "'It was a modern-day lynching': Violent deaths reflect a brutal American legacy," National Geographic, 03 June 2020, https://www.nationalgeographic.com/history/2020/06/history-of-lynching-violent-deaths-reflect-brutal-american-legacy/, Accessed on 04 June 2020.
[3] The White House, "Statement by the President," https://www.whitehouse.gov/briefings-statements/statement-by-the-president-39/, Accessed on 03 June 2020.
[4] Ibid.
[5] The First Amendment guarantees freedoms concerning religion, expression, assembly, and the right to petition. ... It guarantees freedom of expression by prohibiting Congress from restricting the press or the rights of individuals to speak freely.
[6] Danyelle Solomon, Connor Maxwell, and Abril Castro, "Systematic Inequality and American Democracy," https://www.americanprogress.org/issues/race/reports/2019/08/07/473003/systematic-inequality-american-democracy/, Accessed on 03 June 2020
[7] ——, "Criminal Disenfranchisement Laws Across the United States," https://www.brennancenter.org/our-work/research-reports/criminal-disenfranchisement-laws-across-united-states, Accessed on 03 June 2020
[8] Jean Chung, "Felony Disenfranchisement: A Primer," https://www.sentencingproject.org/publications/felony-disenfranchisement-a-primer/, Accessed on 03 June 2020
[9] Op.Cit 6, Danyelle Solomon, Connor Maxwell, and Abril Castro.
[10] ——, " Racial Economic Inequality," https://inequality.org/facts/racial-inequality/, Accessed on 03 June 2020
[11] Mark Travers, "Five Charts That Will Change The Way You Think About Racial Inequality," https://www.forbes.com/sites/traversmark/2019/10/01/five-charts-that-will-change-the-way-you-think-about-racial-inequality/#1cc01d685fb2, Accessed on 03 June 2020
[12] Bernie Sanders, "Racial Justice," https://berniesanders.com/issues/racial-justice/, Accessed on 04 June 2020
[13] Charlotte, Edmond, 'The World Economic Forum: 5 charts reveal key racial inequality gaps in the US', "https://www.weforum.org/agenda/2020/06/us-race-economy-education-inequality/, Accessed on 03 June 2020.