Introduction
The enhancement of Indonesia's maritime defence forces is one of the five pillars of President Jokowi's Global Maritime Fulcrum (GMF) doctrine.i The doctrine is viewed as necessary to maintain Indonesia's maritime sovereignty as well as control over the sea resources, while also ensuring safety of shipping lanes and maritime security. This announcement on the launching of the GMF was made by President Jokowi in 2014 at the East Asia Summit. The GMF is defined as the vision for a "sovereign, developed and strong maritime state capable of positively contributing to the peace and security of the region and the world, according to its national interest."ii President Jokowi's GMF, even though it is primarily a domestic policy initiative focussed on developing Indonesia's blue economy that includes enhancing port infrastructure and connectivity, has a strong strategic undertone as it seeks to develop Indonesia's military capabilities.iiiIndonesia, as stated by President Jokowi, is a maritime country and, thus, the establishment of strong naval capability is an integral part for the realisation of the new decree. This realisation has resulted in acceleration of its naval build-up in order to meet the newly established doctrinal aspiration set out through the GMF. The paper is a study of Indonesia's naval expansion which has been on an upward trajectory in recent years. The subject of Indonesia's maritime axes is very broad in its objectives.This paper, however, would be limited in its scope to only the building up of Indonesia's maritime defence, more specifically, its naval capabilities, while outlining some of the major factors which have propelled the need for the current and ongoing naval modernisation. Further, while laying out the emerging trend in this area, an attempt would be made to link this new naval build-up as an alternate to the geo-strategic stalemate currently existing in the region.  
The Global Maritime Fulcrum: A Renewed Foreign Policy
Ever since its independence in 1945 – its full independence from Netherlands in 1947 – Indonesia followed a vigorous foreign policy directed against colonialism. This was inherited from her freedom movement, and has very much remained the corner-stone of her foreign policy. The second Prime Minister of Indonesia, Mohammad Hatta – who was a liberal democrat – enunciated an Indonesian foreign policy which was defined to be independent and active. In 1953, while explaining the independent and active foreign policy of Indonesia, Mohammad Hatta wrote that the policy of the Republic of Indonesia is not one of neutrality because it is not constructed in reference to belligerent States, but for the purpose of strengthening and upholding peace.iv By the early 1990s, Indonesia emerged as a dominant regional power in ASEAN,an important player in East Asia and the Pacific, and, being one of the founders of the Non-Aligned Movement, it emerged as a leader amongst the developing world.
Indonesian foreign policy has been characterised by pragmatism, caution and moderation ever since the Suharto government in the 1960s. The new moderation in its foreign policy approach is based on a careful calculation of its national interests in which Indonesia sees itself as a potential dominant power in Southeast Asia. Thus, a path of regional cooperation in terms of economic and cultural relations with its fellow neighbours rather than conflict has been the underlying theme of its external engagement. The financial crisis of the late 1990s and the new realities in the aftermath of the 9/11 terrorist attack made Indonesia reassess its role, place and standing in the international community. As enunciated by President Yudhoyono in May 2005, Indonesia reassured its commitment to ASEAN; thus, assuring its continuity to multilateralism in order to address the challenges with the hope of building a community of nations.v As the foreign policy became more focussed on delivering economic gains, the defence policy has also increasingly been used as a way to achieve these domestic goals. President Jokowi has a strong commitment towards achieving more equitable economic growth for his people including infrastructure initiatives that prioritise integrating the relatively poor eastern part of Indonesia with the more prosperous western islands of Java and Sumatra. In order to attain the desired goal, there is aneed for protection from traditional as well as non-traditional threats to Indonesia's internal as well as external security. This would include securing its infrastructural connectivity including its sea lanes, conducting anti-piracy and anti-smuggling operations, etc. Thus, the modernisation of Indonesia's navy and air force becomes of utmost importance in order to protect the vast archipelago. It is in this context that President Jokowi, on November 13, 2014, announced before the world leaders attending the East Asia Summit – leaders that included President Barack Obama and Prime Minister Narendra Modi – his much-awaited vision. It was based on the realisation that the centre of gravity in terms of geo-politics and geo-economics is shifting from the West to the East. Thus, the five pillars of the GMF seek to capitalise on this favourable momentum in order to reap outcomes that would ensure prosperity, peace and security for Indonesia and the entire region at large, which is essential for Indonesia to achieve its domestic goals.vi 
Expanding Indonesian Military Spending
The events of the 1997 Asian financial crisis demonstrated just how closely economics and security are intertwined. The economic and political turmoil which Indonesia witnessed in the 1990s did pose a certain threat to the regional security as well. Further, the realities of the 21stCentury provided yet another necessary impetus to increase its military expenditure, which was already on an upward trajectory, as indicated by the line graph in Figure 1.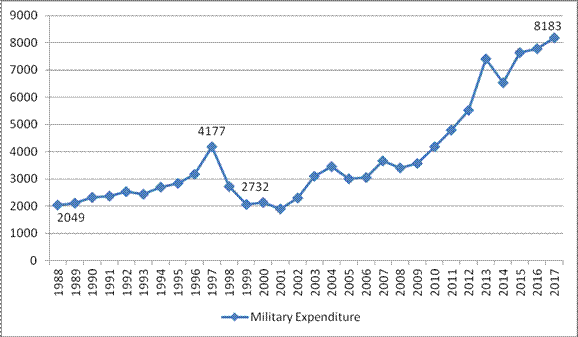 Figure 1: Indonesia's Military Expenditure, 1988-2017 (in US $ million)vii 
From the line graph, it can be seen that Indonesia's military expenditure has been on an upward trend.There was a brief period of decline in the aftermath of the 1997 Asian financial crisis, when its military expenditure fell from US $ 4177 million to US $ 2732 million.Since then, however, there has been an upward growth in its military expenditure, and after the launching of the GMF, there has been a further surge with its military expenditure projected to be US $ 8183 million or US $ 8.1 billion in 2017.In this total military expenditure, homeland security is an area that has gained prominence in Indonesia over the last decade.The expenditure is expected to increase from US $ 6.4 billion in 2018 to US $ 9.6 billion in 2022 at a Compound Annual Growth Rate (CAGR) of 10.46 percent.viii
Indonesia's economy has been able to achieve an annual growth rate of over five percent for the past few years and this has provided the means for further growth in its defence expenditure. Indonesia's military expenditure on equipment has increased by 150 percent in 2006-2015; thus, enabling it to become one of the top 20 military spenders in the world. Furthermore, the government intends to increase the annual military budget from the current US $ 8.1 billion in 2017 to US $ 20 billion by 2019.ix The growth in Indonesia's defence spending is driven by the need to modernise its armed forces under the 'Strategic Defence Plan 2024' launched in 2010. Indonesia's Strategic Defence Plan has set the goal of developing a 'Minimum Essential Force' (MEF) by 2024. Key elements of the MEF include the development of a green-water navy, major upgrades of air combat capability, more mobile and agile land forces, and the development of a viable domestic defence industrial base. The MEF is very ambitious, and it is through this that Indonesia plans to modernise its armed forces over the next 10-15 years, including through investments in anti-ship missiles, new warships, submarines and combat aircrafts.xThis makes Indonesia currently one of the most attractive defence markets in South Asia with the forecast of an anticipated boost primarily to replace ageing defence equipment and systems. Indonesian defence market is anticipated to reach a valuation of US $ 10.1 billion by 2018 and is expected to grow at a CAGR of 14.38 percent during the forecast period to value US $ 17.2 billion in 2022.xi
The evolving TNI Doctrine
The increase in its military spending could be attributed to Indonesia's evolving military doctrine. The basic Tentara Nasional Indonesia (TNI) doctrine places primary emphasis on the army as the dominant service in the Indonesian military. Both the air force and the navy were charged with providing direct support to the army, with their individual service missions being secondary in importance. The TNI army developed an ideological and legal framework to support a formal role in political affairs, originally called 'middle road' and later renamed dwifungsi or dual function. This concept held that the military had a 'socio-political' as well as defence function and gave the military an institutional role in the politics of Indonesia. The dual function fitted easily with the doctrine of 'total people's defence' (Sishankamrata), a Maoist-style concept of people's war that contemplated mass mobilisation to defend the country against external or internal threats. It emphasised on guerrilla warfare and involved seeking support and assistance from the population, and merged ranks of civilian and military cadres.The TNI doctrine was supported by a territorial command structure of 12 military area commands (Komando Daerah Militer or Kodam), each theoretically responsible for the independent defence of a part of the archipelago. It is important to emphasise that the Indonesian military had always been distrustful of political Islam – partially as a result of its experience in fighting Islamist revolts in the late 1940s and 1950s – as it regards it as a threat to its vision of a unified multi-cultural Indonesia, which is embodied in the nation's secular ideology 'Pancasila'.xii The multiple crises that followed the fall of the Suharto government prompted the need for the military to re-examine its role. From late 1990s, Indonesia witnessed a steady modernisation of various aspects of its military structure, including doctrinal and operational principles. The TNI responded to the pressures for change by reducing its political profile and undertaking a revision of its doctrine. The old 'Total People's Defence and Security' doctrine was replaced with the 'New Paradigm' doctrine. The New Paradigm was developed by a team of senior officers headed by Lt Gen Susilo Bambang Yudhoyono and was first announced by the armed forces commander, General Wiranto, in August 1998. This new doctrine provided for a shift from TNI's traditional focus on internal security towards external defence; thus, eliminating the entire territorial structure as it enshrined the army's political power and also led to cuts in the number of army personnel who were transferred to the Marine Corps and the police. The military also abandoned the doctrine of 'dual function' and accepted the reduction and eventual elimination of its corporate representation in the country's legislative bodies.xiii
In 2007, the Defence Ministry published a new doctrine called Total Defence System (Sistem Pertahanan Semesta or Sishanta), which called for total participation of national resources, and took a comprehensive view of the security challenges facing the country. During this period, the government also announced service specific doctrines that called for an increased role for the navy and the air force in defending the national interests. Former President Abdurrahman Wahid also prioritised a major expansion of the Navy and the Marine Corps to protect maritime resources and improve the military's strategic mobility capability.The TNI's principal doctrine was also revised from Catur Dharma Eka Karma into Tri Dharma Eka Karma, which necessitates TNI to work towards developing "force projection strategies with deterrence and denial capabilities as key objectives to defend state sovereignty and maintain territorial integrity against foreign and domestic threats."xivThe new military doctrine was a reflection on the changing nature of Indonesia's threat perception in the domestic as well as the unsettling external security challenges.
Indonesia's Threat Perception
Indonesia faces twin threat perception which arises from the internal security imbalances along with the external threat arising mainly due to its vast and complex geography. Being an expansive archipelago with over 17,000 islands and porous borders along with the internally existing vast political and social fabric spread over a thin ice makes it exposed to both internal as well as external vulnerabilities. The following are some of the broad rationales which have contributed towards Indonesia's threat perception and, thus, pushed for greater expansion of its military and, in particular, its naval capabilities.
Threat from Non-State Actors                      
Indonesia is confronted with threats from various non-state actors that seem to want not only to disturb the internal security, but also to disintegrate the State.Indonesia is confronted with a plethora of security threats from several different directions: armed separatists, radical Islamic organisations and militias, and factions engaged in inter-communal conflicts and religious wars in the province. In the past, Indonesia has witnessed numerous religious and ethnic conflicts along with the call for disintegration of the State througha number of separatist movements. This tendency still prevails as many of the non-state actors, by capitalising on the prevailing economic and social weaknesses, seek to meet their end goals.
            Indonesia also referred to as 'Archipelago Islam' or Islam Nusantara, was introduced to Islam in 600 AD as a consequence of commercial contacts. As the commercial ties between the Archipelago and the Muslim world increased, many of the Hindu rajas and chiefs found it more advantageous to forge closer ties with Muslim India and West Asia. The spread of Islam in Ancient Indonesia was a result of powerful rulers and chiefs converting to Islam which, in turn, provided an incentive for their subjects to follow suit.xv However,Islam in Indonesia was relatively moderate as it had the influences of Hinduism and ancient Javanese religions. At the end of the 19th century, waves of 'reformist' conservative Islam came from West Asia seeking to modernise Islam in Indonesia. Since then, tensions began to emerge between the existing more tolerant Islam and the new imported and conservative form of Islam. Since Indonesia's independence in 1945, there have been acts of religious extremism in order to implement the Sharia law and, over the last twenty years, in particular, conservative Islam has increased its foothold. Furthermore,the events of 9/11 ushered in an era of expansionist and hyper violent jihadist-Salafism in Indonesia, as it helped galvanise forces towards a number of devastating terrorist attacks, such as the Bali bombing in October 2002 and the 2009 Marriott and Ritz-Carlton bombing. The Indonesian government has been very careful in not appearing to be doing the bidding for the Western nation's fight against jihadist-Salafism; while continuously arguing how this poses a great threat for Indonesia. In a way, some of Indonesia's largest religious organisations have helped by adding their weight to campaigns against jihadist-Salafism, arguing that its ideology is alien to Indonesia's Islamic traditions, and, thus, providing moral support to the Indonesian authorities to fight against the ideologically radical entities.xvi
            According to a paper on the assessment of Jemaah Islamiyah (JI) – this is one of the major jihadist groups in Indonesia – who were the mastermind behind the 2000's terror attacks on the Australian embassy, the first and second Bali bombings, and the 2009 Marriott and Ritz-Carlton bombing; the group is on the decline from its heyday in the early 2000s. Many of the JI members have become disillusioned by the indiscriminate bombings, and short-sighted and weak leaders. As a result, JI members began to move away from the movement altogether. Many of the JI leaders were arriving at the conclusion that large-scale bombings were counterproductive for the organisation's long term survival and its ability to win support among the broader Muslim populace for its goals.Further, the JI'sgoals, unlike that of the Al-Qaeda, were centred on the establishment of an Islamic State in Indonesia, as opposed to a regional or global jihadist-Salafi agenda.xvii
The emergence of ISIS and its increasing presence in the region has had an invigorating effect on jihadist-Salafism in Southeast Asia, raising fears about more violence, shifting tactics, and the potential for new cross-border alliances. Thus, today Indonesia, like some of the other Southeast Asian states, faces the challenge from the growing scourge of ISIS-inspired terrorism.xviiiIndonesia has all the characteristics that would make it a hospitable environment for the operation of international terrorist network. It is a vast archipelago, which makes it vulnerable to illegal immigration of illicit entities into its soil, along with the existence of weak law enforcement institutions, prevailing economic distress, unrestrained militia, and a political climate that inhibits government repression of extremists.This makes its very attractive for international terrorists to open their networks in Indonesia while collaborating with the existing domestic radical Islamic organisations. Since many of these groups share the same ideological orientations and biases, it has been relatively easy for the international terrorist groups to infiltrate and influence the domestic radical organisations. Nevertheless, while there are varying degrees of overlap, coordination and cooperation among international terrorist networks and domestic extremists, their agendas and methods are not always identical.xix
This presents the need for Indonesia to enhance its naval power. The GMF provides defensive as well as offensive capabilities against threats from non-state actors and ensures the preservation of the Republic. The TNI would also play a key role, as it is one of the few institutions that cuts across the divides of Indonesian society andhas played a critical role in determining the country's future. The TNIis one of the few militaries in contemporary politics in Southeast Asia, which has remained politically neutral even in  events, such as the fall of Suharto, the B J Habibie interregnum, and the election of Abdurrahman Wahid.xx Thus, there is the need for enhancing TNI's capabilities in order to ensure the stability and integration of Indonesia.
Weakness of the Regional Organisations
Indonesia's second set of threat perceptions arise due to the external security challenges. Firstly, the prevailing weakness in the existing regional multilateral regimes which fail to address key security issues. As a prime mover in the formation of the Association of Southeast Asian Nations (ASEAN), Indonesia has been consistently stating that ASEAN remains the cornerstone of its foreign policy and emphasises upholding the unity and centrality of ASEAN. However, it has also realised that reliance on ASEAN alone would not help in addressing the evolving challenges. After the formation of ASEAN in 1967, according to a 1968 declassified CIA report, Indonesia sought Western presence in Southeast Asia till the time the nations became capable of assuming regional security role themselves. The report further stated that Indonesia wanted the US presence in order to ensure protection against the Chinese, while not establishing any formal security arrangement with the US in order to avoid a direct conflict with Indonesia's stand on non-alignment.xxi This security arrangement with the US was needed as ASEAN, as a grouping, failed to address the issues of security. One reason for this could be that ASEAN had and continues tosuffer from a deep seated historical suspicionprevailing amongst its member States. Withmany of the ASEAN States having unsettled territorial disputes with each other, this often causes a lack of unanimity for the passage of any resolution.xxii The persistence of intra-ASEAN disputes and conflicts, along with the economic and military compulsions of individual ASEAN nations to bilaterally engage with other nations, which do not find favours with other ASEAN nations, divides the Association's decision making process. This restrains its ability to move to a higher level of political integration which is necessary if it desires to establish a real community, which, in turn, would ensure regional stability and security.
Indonesia has been keen on institutionalising conflict resolution in ASEAN, which would ensure the establishment of a security community. Indonesia has been one of the chief proponents of an ASEAN security community which would create a condition of predictable and peaceful relations among a defined group of states with no expectation of threat or use of forcefrom each other. The ASEAN Charter and the Southeast Asia Treaty of Amity and Cooperation (TAC) propose such a community where disputes are settled without recourse to force.xxiii
Indonesia has been committed by initiating a "Joint Statement of the Foreign Ministers of ASEAN Member States on the Maintenance of Peace, Security, and Stability in the Region," at the 49th ASEAN Foreign Ministers Meeting on July 25, 2016. Indonesia being a maritime countryis also looking beyond ASEAN to strengthen its role in the region by strengthening its maritime cooperation with other nations through the Indian Ocean Rim Association (IORA). As stated by Indonesia's Foreign Minister, Retno L.P. Marsudi at the Annual Press Statement on April 7, 2017, Indonesia is determined to make the Indian Ocean as the band between Africa and the Pacific, strengthening IORA as the regional architecture is necessary as it fills the 'hollowness' in the Indian Ocean, and helps preserve the backbone of global economy, security and stability.xxiv
At the 20th Anniversary of the IORA held in Jakarta in March 2017 with Indonesia as the Chair of the Association, the first ever IORA Concord was signed. The so called 'Jakarta Concord'could be instrumental in transforming IORA into a regional organisation that would be able to address the new and evolving challenges pertaining to maritime safety and security, trade and investment, promoting sustainable and responsible fisheries management development, enhancing disaster risk management, and cooperation in the field of science and technology, culture, etc. This document laid down the foundation and has set the course for cooperation amongst the countries in the Indian Ocean, which is set to become the most important region in the future according to President Jokowi. Further, the presence of the IORA leaders and representatives, which included the Presidents and the Prime Ministers from twenty-one member states of the IORA at the Leaders' Summit, demonstrated the strong commitment to forging regionalcooperation in the Indian Ocean Region.xxvThus, the need on the part of Indonesia to expand as well as seek a larger role in the existing multilateral regimes indicates its realisation of the various shortcomings of the existing institutions. This has prompted Indonesia to advance its naval capabilities in order to confront any possible threat which may arise in case of the inability of the existing multilateral regimes to negotiate an acceptable settlement.
The Unsettled Maritime Delimitation Issue
Since 1960, the Indonesian government have been seeking to define the country's marine domain. Indonesia claims territorial seas 12nm wide and an Exclusive Economic Zone (EEZ) 200nm wide as given by a Declaration on 21 March 1980 and re-affirmed in Act No.5 of October 18, 1983. Only in the eastern end of the Malacca Strait and in Singapore, Indonesia is prevented from claiming the full width of 12nm territorial seas because of the nearness to Malaysia and Singapore, respectively. In contrast, Indonesia's claim to the full width of an EEZ is much more restricted. Indonesian claims to a200nm wide EEZ overlaps with similar claims of seven neighbours that include: India,xxvi Thailand, Malaysia, Vietnam, The Philippines, Papua New Guinea and Australia. Indonesia has not still settled its maritime boundaries with Malaysia and The Philippines.xxvii
There are also maritime territorial conflicts with countries that include Australia, Malaysia, and Singapore.In 2016, Indonesia carried out twenty meetings/negotiations on maritime border. According to Foreign Minister Retno, one of the major achievements in border issue is the ratification of the Agreement on Maritime Border between Indonesia and Singapore on December 15, 2016, which was exchanged in Singapore in January 2017.xxviiiOn September 25, 2017, the Foreign Ministers of Singapore and Indonesia jointly submitted a treaty that clarifies their sea border in the eastern part of the Strait of Singapore to the UN for registration. The treaty submitted relates to the delimitation of the territorial seas, which was signed in Singapore on September 3, 2014.The treaty covers the eastern section of Changi and Batam and, together, the three account for a 67.3 km-long sea border in the Strait of Singapore. The treaty excludes the area between Pedra Branca and Bintan Island, which involves Indonesia, Singapore and Malaysia. The treaty is the third of its kind between the two countries after they first agreed on the maritime boundary along the central part of the Singapore Strait on May 25, 1973. The first treaty came into force on August 29, 1974, followed by another pact on the western section between Indonesia's Pulau Nipa and Singapore's Sultan Shoal signed on March 10, 2009, and which came into force on August 30, 2010.xxix
Indonesia's relation with Malaysia is the most sensitive due to their complex and overlapping claims over the maritime borders. In 2010, the Deputy Chief of Staff for Navy, Vice Admiral Marsetio, noted that of all the unsettled maritime claims, Malaysia posed the biggest threat of conflict, especially over the disputed Ambalat area.xxxThe map in Figure 2 indicates the Ambalat area, which is a continental shelf in the Celebes Sea. Ambalat is a 15,000 square km maritime territory in the Celebes Sea with huge oil and gas reserves; estimates for just one of the blocks suggest around 764 million barrels of oil and 1.4 trillion cubic feet of gas. This area has caused considerable tensions between Malaysia and Indonesia, particularly in 2009, when there were several face-off incidents between the navy vessels of both the States.xxxiThe first maritime boundary segment between Indonesia and Malaysia was settled in 1969; however, the complete settlement of their bilateral borders has yet to get finalised. It also did not address the issues of maritime delimitation between Indonesia and Malaysia in the Celebes Sea. The eastern coastal section of the Anglo-Dutch land boundary inherited by the two nations, which follows parallel 4º 10'N across Pulau Sebatik. The problem in this area is caused by both countries claiming Pulau Sipadan and Pulau Ligitan, as indicated in the map in Figure 2.xxxii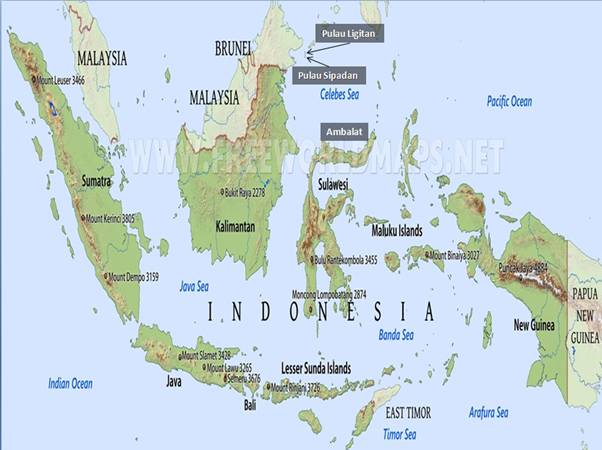 Figure 2: Ambalat Seabed in the Celebes Seaxxxiii 
In 2015, President Jokowi appointed Ambassador Eddy Pratomo as a special envoy to look into the determination of Indonesia-Malaysia sea border. The appointment of a special envoy to exclusively look into the matter indicates the complexity and sensitivity of the issue. In June 2017, during Ambassador Pratomo's official visit to Nunuhan, East Kalimantan, the Ambassador said that the two countries were working hard towards the definition of 'fence' in the seas between them and some progress had been made on the issue.xxxiv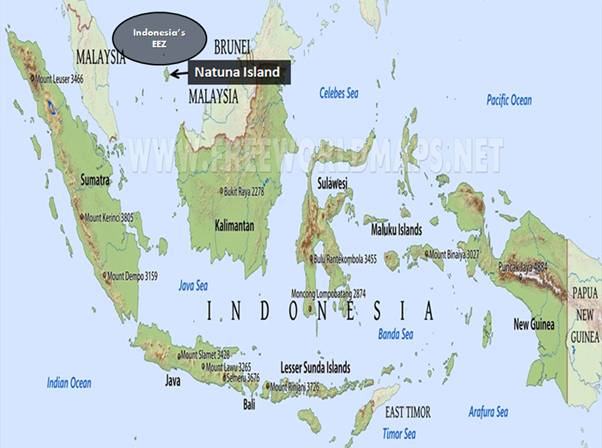 Figure 3: Indonesia's EEZ North East of Natuna Islandxxxv 
Indonesia's increasing defence spending is also driven by increasing tensions in the South China Sea even though Indonesia is not party to any territorial or marine claims over the Spratly or Paracel Islands. However, China's claim to the South China Sea based on its nine-dash lines runs very close to the Natuna Islands and this is becoming a cause of concern for Indonesia.In July 2017, Indonesian officials announced that they had renamed the waters northeast of the Natuna Islands, as shown in Figure 3, located at the far southern end of the South China Sea, as the 'North Natuna Sea'. Indonesia's EEZ northeast of the Natuna Island, as seen in Figure 3, overlaps with China's infamous nine-dash line.This is causing concernin its relations with China, as there has been a record number of incidents in recent years in which Indonesian navy arrested Chinese fishing vessels, which had entered the overlapping area. Further, Indonesia under President Jokowi has taken action to shore up its military and law enforcement capacity in the area, with the President making two high-profile trips to the military base at Ranai on Natuna Besar to demonstrate his interest in defending Indonesian sovereignty over the islands and Indonesian rights to the resources in the adjacent EEZ.xxxvi
In 2015, China's Foreign Ministry spokesman, Hong Lei, gave Beijing's position on Natuna by stating that as Indonesia has no territorial claim to China's Spartly Islands, China has no objection to Indonesia's sovereignty over the Natuna Islands. Indonesia, like most states in the region, does not recognise China's nine-dash line and has no interest in relinquishing its claims in the region in return for Chinese recognition of the Natuna as part of Indonesia's territory. Today, Indonesia is increasing its positioning in the region around the Natuna Islands and is planning the deployment of naval warships. In 2016, there were three maritime encounters between Indonesia and China that involved warning shots, including one in which Indonesian warships seized a Chinese fishing boat and its crew. According to Ian J. Storey, a Senior Fellow at the Institute of South-east Asian Studies in Singapore, Indonesia is already party to the dispute and the sooner it acknowledges this reality the better.xxxvii
Further, the renaming of waters northeast of the Natuna Islands at the far southern end of the South China Sea as the North Natuna Sea by Indonesia is an important indication. A new map with the renamed territory unveiled by Indonesia's Deputy Minister for Maritime Sovereignty, Arif Hanas Oegroseno, in July 2017, follows the examples set in Hanoi where the South China Sea is known as the East Sea, and in Manila, where the disputed waterway has been renamed the West Philippine Sea; both nations are party to the dispute in the South China Sea.xxxviii
The Need to Protect from Illicit Activities
Another major issue that poses a threat for Indonesia is illegal fishery. It needs to enhance its naval capabilities in order to deploy them to contain this illegal practice. Apart from this, Indonesia's need for naval expansion also comes from the necessity to continuously deploy its forces for anti-piracy and drug smuggling control missions. Further, as stated before, Indonesia has one of the most expansive landmass with 17,508 islands and a total area of 741,903 square miles and a coastline of 29,550 miles; stretching from the South China Sea, the Celebes Sea, the Pacific Ocean, and the Indian Ocean, making it a huge undertaking to provide maritime security and vigilance.xxxixSince the launch of a battle against poaching of fish by President Jokowi in 2014, hundreds of foreign fishing boats have been captured or even destroyed by Indonesia. These include instances such as, in July 2017, a Vietnamese fishing boat was shot at by the Indonesian navy wounding four fishermen onboard. The fishing boat was set to be sailing at about 132 nautical miles (245 km) southeast of Vietnam's Con Dao Island.xl
In mid-2015, the Ministry of Maritime and Fisheries signed an MoU with the Ministry of Defence to assist in the procurement of five to six marine surveillance aircraft (MSA) to oversee Indonesian waters from poaching or illegal fishing. Presidential Decree No 70/2012 was passed, which regulates the procurement process of equipment for government agencies, including state-owned companies, and the Indonesian military and police. Further, a Defence Policy Committee was also established to develop as well as provide greater impetus to its existing domestic defence industry to develop its capabilities for equipment and armaments. These undertakings led to an expanding budget allocation towards its naval services. In February 2016, President Jokowi announced his intent to increase defence budget spending within two-three years to $ 18.8 billion; which is equivalent to 1.5 percent of its GDP. In this, the major emphasis is towards strengthening the security of Indonesian maritime territory by increasing the purchase of maritime patrol aircrafts, including multiple rocket launcher system, air defence missiles, assault and attack helicopters.xliThus, Indonesia's growing external security challenge, which has seen growing military outreach of the Indonesian Navy, made it necessary to seek self-sufficiency in its defence and, in particular, its naval capabilities.
Indonesian Naval Capabilities
The Indonesian Navy, also known as Tentara Nasional Indonesia-Angkatan Laut or simply TNI-AL, was established on August 22, 1945, following the Indonesian Proclamation of Independence. There is a Naval Headquarters Staff at Jakarta under the overall command of the Navy Chief of Staff, followed by a Western fleet with HQ at Jakarta, Eastern fleet with HQ at Surabaya, and a Navy Marine Corps. There is also the Training Command and Military Sealift Command for providing logistics support along with numerous naval bases in order to secure the large archipelago.xlii
| | |
| --- | --- |
| Type | Active |
| Patrol Submarines | 2 |
| Frigates | 6 |
| Corvettes | 23 |
| Attack Craft– Missile | 8 |
| Large Patrol Craft | 15 |
| Patrol Craft | 25 |
| LPD | 4 |
| LST/LSM | 25 |
| MCMV | 11 |
| Survey and Research Ships | 8 |
| Command Ship | 1 |
| Replenishment Tankers | 2 |
| Coastal Tankers | 2 |
| Support Ships | 3 |
| Transports | 8 |
| Training Ships | 9 |
Table 1: Strength of TNI-ALxliii 
Table1 indicates the current strength of Indonesia's naval fleet. Indonesia's vast geography covers three major sea lanes, which include the Malacca, Sunda and Lombok Straits that connect the Indian and the Pacific Oceans. This places Indonesia in a very important geostrategic maritime position in Asia and the need to secure this provides enough drive for the enlargement of its naval force. The internal and external situations at the beginning of the 1980s,such as the need to protect Indonesia'sEconomic Exclusive Zone (EEZ), provided new thrust for the development of TNI-AL into a professional, effective and modern navy. In 1985, when the reorganisation of the Indonesian military took place, significant changes were made to the former territorial commands of the navy. The navy territorial commands were replaced by the present Eastern and Western Fleets as indicated in Figure 4.xliv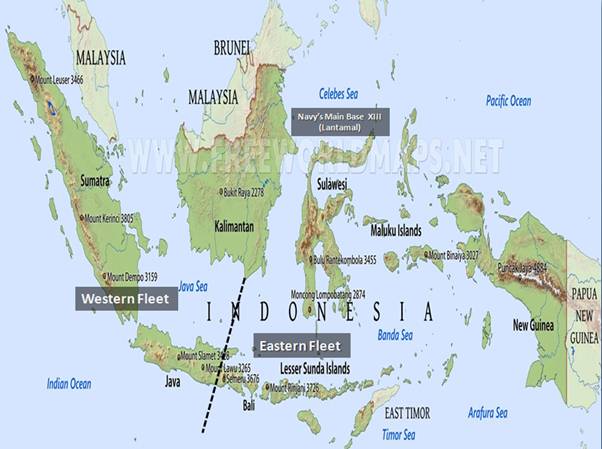 Figure 4: The Area under the Two Indonesian Naval Fleetsxlv 
According to reports from IHS Jane's, the TNI-AL is in the process of modernising as well as upgrading the Navy's Main Base(Lantamal) XIII in the Celebes Sea as shown in Figure 4, where it has an ongoing maritime dispute with neighbouring Malaysia.xlvi Further, Indonesia's Military Commander, General Gatot Nurmantyo, indicated the need for the establishment of a third fleet in Papua. Indonesian military officials have been demanding the creation of another fleet to increase the country's maritime capabilities.xlviiTNI-AL operates two Type 209/1300 submarines acquired from Howaldtswerke-Deutsche Werft (HDW, Germany) which entered into service in 1981.xlviii
The Indonesian navy is seeking a fleet of at least ten to twelve submarines according to a December 5, 2015, report from S. Rajaratnam School of International Studies. The planned increase is part of Indonesia's minimum essential force programme, which runs till 2024 and seeks to boost naval capabilities.xlixTNI-AL officials have stressed that the requirement for increased number of submarines is being placed to protect Indonesia's national interest and guard resources as well as sea-lanes.The Ministry of Defence's 2024 Defence Strategic Plan, confirmed the 2015 report, as it indicated the acquisition of at least ten new submarines. In August 2017, TNI-AL commissioned its first attack submarine in over three decades. This is the first out of the three ordered Type 209/1400 Chang Bogo-class diesel-electric attack submarines manufactured by South Korea's defence contractor, Daewoo Shipbuilding that, under a license, built a variant of the German Type 209 submarine. The remaining two submarines are expected to be commissioned in 2018 and 2019, respectively. The 1400-ton submarine has an operational range of approximately 10,000 nautical miles and are multipurpose vessels capable of conducting anti-surface warfare, anti-submarine warfare, and special forces missions.lAccording to IHS Jane's, this new submarine would be designated as KRI Nagapasa with pennant number 403. It will be home ported at the Palu Naval base in the Watusampu province of Central Sulawesi. Indonesia also plans to build a new submarine base on Pulau Natuna Besar, the largest of the Natuna Islands in the South China Sea, which, as mentioned, has been renamed the North Natuna Sea where Indonesia seeks to establish its EEZ, close to China's EEZ claims based on its nine-dash lines.li
TNI-AL Modernisation through Partnerships Enabling Technology Transfers
With Indonesia's growing maritime ambition as well as emerging challenges, there has been the need to modernise its current naval equipment, majority of which are still from the Soviet-era. The changing nature of threats, which are getting even more complex, has resulted in the need for a major Indonesian naval procurement programme in the recent years. This is being accomplished through various defence trades in the form of complete import of defence equipment or even through defence co-production as well as co-development with various foreign defence entities.lii For instance, Indonesia is seeking to increase its defence cooperation with nations, such as Denmark, where the two countries have the potential to develop mutually beneficial cooperation in the defence fields, including defence industry, peace-keeping missions, and cooperation between the two countries' navies. This is based on an MoU that the Danish Queen signed in 2016 on her visit to Indonesia, which seeks to establish a bilateral strategic partnership.liii Indonesia and China signed an MoU on defence technology cooperationafter the signing of the 2005 Strategic Partnership. They also reached an agreement for the purchase of YJ-82/C-802 anti-ship missiles for $ 11 million, Jakarta's first major purchase of Chinese manufactured weapon since the mid-1960s. However, Indonesia continues to be suspicious of Chinese intention and this continues to limit their military ties. Furthermore, Indonesia still prefers continuing its military ties with its traditional military partner, the US, with whom the military exchange remains robust.liv
The partnership that Indonesia is undertaking for the procurement of its naval vessels and equipment has helped the enhancement of its know-how in the development of naval shipbuilding. For instance, there has been co-production and co-development between the French naval defence specialist DCNS and Indonesian shipyard PT PAL. Both have extended cooperation on studies for a potential order and local assembly of submarines. The MoU signed between the two parties covered the extension of an already existing agreement between PT PAL and DCNS on industrial cooperation and Indonesian acquisition of submarines. The memorandum also covered Indonesia's interest in acquiring warships.Through this Indonesian-French long-term cooperation, there would be a high level of local industrial content, achieved on account of technology transfers.lvAnother case of defence industrial cooperation was withNetherland-based shipyard, Damen Schelde Naval Shipbuilding (DSNS), which delivered the first SIGMA10514 Perusak Kawal Rudal (PKR)lvi guided-missile frigate to the Indonesian Ministry of Defence. The frigate was assembled at Indonesia's shipyard at Surabaya, PT Pal.lvii
The project between PT Pal and DSNS led to a flow of knowledge transfer from Damen to its Indonesian counterpart. In fact, according to DSNS, more than 300 people from PT Pal benefitted from the extensive sharing of shipbuilding expertise, and helped improve the yard standard as well as the local workers' expertise. This was emphasised by Indonesia's Coordinating Minister of Maritime Affairs, Rizal Ramli, who, during the launch ceremony of the frigate, stated, "... The launching of the PKR1 is a great momentum for the development of the Indonesian shipbuilding and maritime industry. This has shown that Indonesia has the human resources and skills to develop naval vessels. However, we must still improve our technology and knowledge in order to compete internationally. Certainly, this is what we hope to achieve from our partner DSNS."lviii
Collaboration and Partnership Opportunities with India
One positive outcome of Indonesia's expanding naval capabilities is the scope it provides for cooperation with friendly nations like India with whom it shares an international maritime boundary of about 300 nautical miles. The partnership in terms of ship building with other foreign entities has provided Indonesia with the know-how in producing military vessels. There would be a further push in this area given the importance to maritime security and power being given in its GMF. Indonesia is keen on establishing maritime cooperation with other nationsincluding India. Both nations have been undertaking regular joint naval exercises including the successful completion of the 29th India-Indonesia Coordinated Patrol (CORPAT) in May 2017. Further, in 2015, both nations had successfully concluded their Navies Staff Talks.
During President Jokowi's State visit to India in December 2016, both leaders highlighted the importance of the maritime domain to their respective countries, the surrounding regions, and the world. Being strategic partners and maritime neighbours, both nations pledged to deepen their maritime cooperation and, to this end, issued a separate "Statement on Maritime Cooperation" during the visit. The Statement encompassed a broad range of fields, including: maritime security, maritime industry, maritime safety and navigation. Both nations are pushing towards the initiation of Defence Ministers' Dialogue and the Joint Defence Cooperation Committee (JDCC) Meetings to review and upgrade the existing "Agreement on Cooperative Activities in the Fields of Defence" to a substantive bilateral Defence Cooperation Agreement. Through this defence dialogue, both nations could explore possible collaboration between their defence industries for joint production of equipment with technology transfer, technical assistance, and capacity building cooperation.lix
India and Indonesia share a common maritime border with common maritime interest as well as challenges; this provides the opportunity for further cooperation between the two nations. Through the initiation of maritime cooperation, defence industrial cooperation as well asproject such as 'Sagarmala',envisaged by the Ministry of Shipping, which proposes the development of fourteenCoastal Economic Zones (CEZ) across major and non-major ports of India, there would be a push towardsthe development and modernisationof ports. Project such as this would provide the means for cooperation in infrastructural development as well as shipbuilding between the two nations. India already has expertise in war ship building capabilities and Indonesia is also acquiring the necessary know-how in this very technologically sophisticated sector; thus, providing scope for cooperation. Further, today, as the Indian Ocean region has emerged as a major ocean for the flow of trade, the two nations who are prominent members of the IORA along with their expanding naval cooperation would be able to secure the safety and security of the region, which would be congenial towards improving regional and global trade and commerce. Thus, for India, the GMF initiated by President Jokowi, despite its strategic undertone, provides the opportunity for further enhancing the bilateral relations between the two nations in the area of defence and maritime cooperation, given the positive relations enjoyed between the two nations.
Conclusion
The paper has made an attempt to draw in the linkages between the changing contours of Indonesia's role in the region which, in turn, is being backed through its naval modernisation and expansion. It is important to realise that ever since its independence, Indonesia has viewed itself as an important player in the region, given the vast geographical expanse of its territory. ASEAN, however, continues to remain the cornerstone of its foreign policy through which it seeks to ensure stability in the region.Through the various mechanisms of ASEAN, Indonesia attempts to address issues and ensure avoidance on the use of force. The launch of the GMF in 2014 may well be to address the current challenges as well as secure Indonesia's economic and political future. It also indicates a change in its tactics which is being adopted given the changing nature of threats, such as the rising issue of maritime piracy and terrorism in its territorial waters along with the rising confrontation for its EEZ around its Natuna Islands in the South China Sea.
According to a McKinsey report,the Southeast Asian States since the 1990s have collectively doubled their military spending with warships, maritime patrol aircrafts, radar systems and combat planes, along with submarines and naval defence systems remaining high on their procurement lists.lx One of the major reasons for this could be the rising incomes and strong economic growth in Southeast Asia. If per capita incomes rise fast then relative increases in military budgets are to be expected and vice versa. Southeast Asia since the 1980s has had an increasing military expenditure except for a slight fall in the aftermath of the Asian Financial crisis in 1997, which saw a slight decline in the subsequent two years that followed. According to SIPRI's estimates, at the end of 2016, Southeast Asia has a combined military expenditure of US $ 41.9 billion which has been on an upward trajectory.lxiIt must be mentioned thatSoutheast Asia is a region, which is marked by a very fragile social, economic, and political fabric internally; it is a region which till date has not fully addressed its bilateral issues on delimitation of land and marine territories as well as their respective EEZs. Indonesia has realised that the ongoing security challenges, which it faces internally as well as externally, cannot be fully met by its current naval capability. Thus, the current naval procurement, part of its Strategic Defence Plan 2024 and the GMF seek to provide for the rapid modernisation of its naval force which, in the past, had been less favoured in comparison to the TNI Army.
****
* The Author, Research Fellow, Indian Council of World Affairs, New Delhi.
Disclaimer: The views expressed are that of the Researcher and not of the Council.
Endnotes
i The other four pillars are: rebuild maritime culture, manage marine resources, develop maritime infrastructure and connectivity and advance maritime diplomacy.  
iiEvan Laksmana, "Indonesian Sea Policy: Accelerating Jokowi's Global Maritime Fulcrum,"http://amti.csis.org/indonesian-sea-policy-accelerating/, (accessed on July 21, 2017).
iii Brian Harding and Stefanie Merchant, "Indonesia's Inward Turn," The Diplomat, December 8, 2016, http://thediplomat.com/2016/12/indonesias-inward-turn/, (accessed on July 6, 2017).
iv G P Bhattacharjee, "Southeast Asian Politics: Malaysia and Indonesia," (Calcutta: Minerva Associates (Publications) Pvt. Ltd., 1976), pp. 100, 102-103 and 111.
v Donald E. Weatherbee, Indonesia in ASEAN: Vision and Reality, (Singapore: ISEAS Publishing, 2013), pp. 2 and 4-5.
vi Rendi A. Witular, "Jokowi Launches Maritime Doctrine to the World," The Jakarta Post, November 13, 2017, http://www.thejakartapost.com/news/2014/11/13/jokowi-launches-maritime-doctrine-world.html, (accessed on July 6, 2017).
vii"Military Expenditure by Country in Constant (2015) US $ m," SIPRI, 2017, https://www.sipri.org/sites/default/files/Milex-constant-2015-USD.pdf, (accessed on August 3, 2017).
viii"Future of the Indonesia Defence Industry– Market Attractiveness, Competitive Landscape and Forecasts to 2022," June 2017, https://www.researchandmarkets.com/reports/4328263/future-of-the-indonesia-defense-industry-market, (accessed on August 3, 2017).
ix"$ 20 Billion Defence Budget Boom in Indonesia, IHS Markit Says," IHS Markit, October 31, 2016, http://news.ihsmarkit.com/press-release/aerospace-defense-security/20-billion-defence-budget-boom-indonesia-ihs-markit-says, (accessed on September 11, 2017).
x Benjamin Schreer, "Moving Beyond Ambitions? Indonesia's Military Modernisation," Strategy, November 2013,https://www.files.ethz.ch/isn/173326/Moving%20beyond%20ambitions_%20Indonesia's%20military%20modernisation..pdf, (accessed on October 13, 2017).
xi "Future of the Indonesia Defence Industry– Market Attractiveness, Competitive Landscape and Forecasts to 2022," op. cit.
xii The 1945 Constitution included Pancasila, which defined the national identity without reference to Islam as the national ideology. Pancasila and the 1945 Constitution were and remained the sole basis of the politics of Indonesian armed forces.
xiii Angel Rabasa and John Haseman, "The Military and Democracy in Indonesia: Challenges, Politics, and Power," RAND, 2002, https://www.rand.org/pubs/monograph_reports/MR1599.html, (accessed on September 28, 2017).
xiv"Indonesia Submarine Capabilities," http://www.nti.org/analysis/articles/indonesia-submarine-capabilities/, (accessed on August 3, 2017).
xvProf Nazeer Ahmad, "Islam in Indonesia," History of Islam: An Encyclopaedia of Islamic History, https://historyofislam.com/contents/the-post-mongol-period/islam-in-indonesia/, (accessed on October 18, 2017).
xviSuperintendent Craig Riviere, "The Evolution of Jihadist-Salafism in Indonesia, Malaysia and The Philippines, and its Impact on Security in Southeast Asia," Indo-Pacific Strategic Papers,  The Centre for Defence and Strategic Studies, Australian Defence College,November 2016, http://www.defence.gov.au/ADC/Publications/IndoPac/Riviere_IPSP.pdf, (accessed on October 9, 2017).
xviiJulie Chernov Hway, "Terrorism in Perspective: An Assessment of 'Jihad Project' Trends in Indonesia," Asia Pacific Issues, Analysis from the East-West Centre, No 104, September 2012, https://www.eastwestcenter.org/system/tdf/private/api104.pdf?file=1&type=node&id=33703, (accessed on October 9, 2017).
xviiiSuperintendent Craig Riviere, "The Evolution of Jihadist-Salafism in Indonesia, Malaysia and The Philippines, and its Impact on Security in Southeast Asia," op. cit.
xixAngel Rabasa and John Haseman, "The Military and Democracy in Indonesia: Challenges, Politics, and Power," op. cit.
xx Ibid.
xxi "National Intelligence Estimate, NIE 55-68," Prepared by the CIA titled Initial Report on Suharto, December 31, 1968, http://nsarchive2.gwu.edu/NSAEBB/NSAEBB242/1968_NIE-55-68.pdf, (accessed on October 3, 2017).
xxii Paul Dibb, "Indonesia: The Key to South-East Asia's Security", International Affairs (Royal Institute of International Affairs 1944), Vol. 77, No.4 (Oct., 2001), p. 835.
xxiii Donald E. Weatherbee, Indonesia in ASEAN: Vision and Reality, (Singapore: ISEAS Publishing, 2013), pp. 62-63 and 65-67.
xxiv Retno L.P. Marsudi, "Annual Press Statement Minister for Foreign Affairs of the Republic of Indonesia Retno L.P. Marsudi 2017", Consulate General of the Republic of Indonesia, Vancouver, B.C., Canada, April 7, 2017, http://indonesiavancouver.org/wp1/index.php/2017/04/07/annual-press-statement-minister-for-foreign-affairs-of-the-republic-of-indonesia-retno-l-p-marsudi-2017/, accessed on August 16, 2017.
xxv"IORA Leaders sign Jakarta Concord", Antara News.com, March 7, 2017, http://www.antaranews.com/en/news/109800/iora-leaders-sign-jakarta-concord, accessed on September 9, 2017. 
xxviIndonesia's seabed boundaries with India were settled in three agreements in 1974, 1977 and 1979. For further illustration see: Victor Prescott, "Indonesia's Maritime Claims and Outstanding Delimitation Problems," IBRU Boundary and Security Bulletin 1995-1996, https://webcache.googleusercontent.com/search?q=cache:AFpZ99mZd3oJ:https://www.dur.ac.uk/ibru/publications/download/%3Fid%3D82+&cd=2&hl=en&ct=clnk&gl=in, (accessed on August 16, 2017).
xxviiIbid.
xxviii Retno L.P. Marsudi, "Annual Press Statement Minister for Foreign Affairs of the Republic of Indonesia Retno L.P. Marsudi 2017,"Consulate General of the Republic of Indonesia, Vancouver, B.C., Canada, April 7, 2017, http://indonesiavancouver.org/wp1/index.php/2017/04/07/annual-press-statement-minister-for-foreign-affairs-of-the-republic-of-indonesia-retno-l-p-marsudi-2017/, (accessed on August 16, 2017).
xxix"Singapore, Indonesia Submit Final Sea Border Treaty to UN as They Celebrate 50thAnniversary of Ties," The Straits Times, September 26, 2017, http://www.straitstimes.com/asia/se-asia/singapore-indonesia-submit-final-sea-border-treaty-to-un-as-they-celebrate-50th, (accessed on September 26, 2017).
xxx"Indonesia Submarine Capabilities," http://www.nti.org/analysis/articles/indonesia-submarine-capabilities/, (accessed on August 3, 2017).
xxxi Mohd Hazmi, Mohd Rushi and Roman Dremliuga, "Are Malaysia's Maritime Frontiers Properly 'Fenced'?"Astro Awani, March 28, 2016, http://english.astroawani.com/malaysia-news/are-malaysias-maritime-frontiers-properly-fenced-100160, (accessed on August 14, 2017). 
xxxiiVictor Prescott, "Indonesia's Maritime Claims and Outstanding Delimitation Problems," IBRU Boundary and Security Bulletin 1995-1996, https://webcache.googleusercontent.com/search?q=cache:AFpZ99mZd3oJ:https://www.dur.ac.uk/ibru/publications/download/%3Fid%3D82+&cd=2&hl=en&ct=clnk&gl=in, (accessed on August 16, 2017).
xxxiiiSource:  http://www.freeworldmaps.net/asia/indonesia/indonesia-physical-map.jpg.
xxxiv"Settling Maritime Borders a Tough Job," The Jakarta Post, July 24, 2017, https://www.pressreader.com/indonesia/the-jakarta-post/20170724/281724089613032, (accessed on August 16, 2017).
xxxvSource: http://www.freeworldmaps.net/asia/indonesia/indonesia-physical-map.jpg.
xxxviAaron L Connelly, 'Indonesia's New North Natuna Sea: What's in a Name?" July 19, 2017, https://www.lowyinstitute.org/the-interpreter/indonesia-s-new-north-natuna-sea-what-s-name, (accessed on August 16, 2017).
xxxvii "Indonesia Starts to Confront China's Territorial Claims in South China Sea", The Straits Times, September 11, 2017, http://www.straitstimes.com/asia/se-asia/indonesia-starts-to-confront-chinas-territorial-claims-in-south-china-sea, (accessed on September 11, 2017). 
xxxviii Chieu Luu, Katie Hunt and Spencer Feingold, "Beijing Criticizes Indonesia Renaming Part of South China Sea,"CNN, July 16, 2017, http://edition.cnn.com/2017/07/15/asia/indonesia-south-china-sea-territorial-claims/index.html, (accessed on September 11, 2017).
xxxix"Indonesia: Tentara Nasional," in Commodore Stephen Saunders RN, Jane's Fighting Ships 2011-2012, 114th Edition,(UK: MPG Group, 2011).
xl"Vietnam Says Indonesian Navy Shot its Fishermen in South China Sea," Reuters, July 24, 2017, https://www.reuters.com/article/us-southchinasea-vietnam-indonesia-idUSKBN1A90OC, (accessed on August 16, 2017).
xli"Indonesia– Defence Equipment," Export Gov, June 27, 2017, https://www.export.gov/article?id=Indonesia-Defense-Equipment, (accessed on August 3, 2017).
xlii "Tentara Nasional Indonesia-Angkatan Laut (TNI-AL) Indonesian Armed Forces – Sea Force," Global Security.Org, http://www.globalsecurity.org/military/world/indonesia/alri.htm, (accessed on August 10, 2017).
xliii "Indonesia: Tentara Nasional," in Commodore Stephen Saunders RN, Jane's Fighting Ships 2011-2012, 114th Edition, (UK: MPG Group, 2011).
xliv"Tentara Nasional Indonesia-Angkatan Laut (TNI-AL) Indonesian Armed Forces – Sea Force," op. cit.
xlvSource: http://www.freeworldmaps.net/asia/indonesia/indonesia-physical-map.jpg. 
xlvi Prashanth Parameswaran, "Why is Indonesia Upgrading Two Naval Bases?"The Diplomat, August 8, 2015, http://thediplomat.com/2015/08/indonesia-to-upgrade-naval-bases-in-boost-to-maritime-capabilities/, (accessed on August 10, 2017).
xlvii"Indonesia Military to Build Naval Base in Papua," The Jakarta Post, January 20, 2017,http://www.thejakartapost.com/news/2017/01/20/indonesian-military-to-build-naval-base-in-papua.html, (accessed on August 10, 2017).
xlviii"Indonesia Submarine Capabilities," http://www.nti.org/analysis/articles/indonesia-submarine-capabilities/, (accessed on August 3, 2017).
xlixPierre Tran, "French, Indonesian Naval Firms Extend Submarine Study," March 31, 2017, http://www.defensenews.com/naval/2017/03/31/french-indonesian-naval-firms-extend-submarine-study/, (accessed on August 3, 2017).
l Franz-Stefan Gady, "Indonesia Commissions First Attack Submarine in 34 Years," The Diplomat, August 3, 2017, http://thediplomat.com/2017/08/indonesia-commissions-first-attack-submarine-in-34-years, (accessed on August 14, 2017).
liRidzwan, Rahmat, "Indonesia to Homeport Newly Commissioned Type 209/1400 Submarine in Central Sulawesi," IHS Jane's Navy International, Jane's 360, August 3, 2017, http://www.janes.com/article/72839/indonesia-to-homeport-newly-commissioned-type-209-1400-submarine-in-central-sulawesi, (accessed on August 14, 2017).
lii "Report: Indonesia to Invest in Naval Forces Modernisation Backed by Strong Economic Growth," September 2, 2016, http://www.naval-technology.com/news/newsreport-indonesia-to-invest-in-naval-forces-modernisation-backed-by-strong-economic-growth-4993715/, (accessed on August 3, 2017).
liii"Indonesia, Denmark to Increase Defence Cooperation," Antara News.com, March 10, 2017, http://www.antaranews.com/en/news/109855/indonesia-denmark-to-increase-defense-cooperation, (accessed on August 3, 2017).
liv"Indonesia-China Relations," Global Security, http://www.globalsecurity.org/military/world/indonesia/forrel-prc.htm,(accessed on August 30, 2017).
lvPierre Tran, "French, Indonesian Naval Firms Extend Submarine Study," op. cit.
lvi SIGMA stands for Ship Integrated Geometrical Modularity Approach.The 105m-long SIGMA 10514 PKR vessels has been primarily designed to carry out anti-air, anti-surface and anti-submarine warfare missions for the Indonesian Navy. The frigate can also perform search-and-rescue; maritime security and humanitarian support tasks, and are specially equipped to undertake a series of missions in and around the waters of Indonesia.The SIGMA 10514 PKR frigate was a project initiated in August 2010 by the Indonesian Ministry of Defence. The Ministry awarded a contract to DSNS for the construction of the first SIGMA 10514 PKR in December. The vessel was constructed through a collaborative modular process operating simultaneously at DSNS and PT PAL shipyard. According to DSNS, the SIGMA 10514 PKR has a proven design and is uniquely built using a modular approach. In essence, the PKRs are divided into six modules of which four were built in PT Pal's shipyards, while the other two modules were built and fully tested at DSNS in the Netherlands. This modular building method enables greater flexibility apart from being more cost effective, and allowed for building at various locations worldwide. This also provides a large portion of technological transfer. When the six modules were completed, PT Pal had the responsibility of integrating them into one sole vessel.
lvii "DSNS Delivers First SIGMA 10514 PKR to Indonesian MOD," Naval Technology, February 7, 2017, http://www.naval-technology.com/news/newsdamen-schelde-hands-over-first-sigma-10514-pkr-to-indonesian-ministry-of-defence-5733167#.WJnxJb7LZQA.twitter, (accessed on August 7, 2017).
lviii"Frigate Launched for Indonesian Navy," Marine Link, January 18, 2016, https://www.marinelink.com/news/indonesian-launched403597.aspx, (accessed on August 3, 2017). 
lix"India-Indonesia Joint Statement during the State Visit of President of Indonesia to India," Ministry of External Affairs, Government of India, December 12, 2016, http://mea.gov.in/bilateral-documents.htm?dtl/27805/IndiaIndonesia+Joint+Statement+during+the+State+visit+of+President+of+Indonesia+to+India, (accessed on August 22, 2017). 
lx John Dowdy, David Chinn, Matteo Mancini and Jonathan Ng, "Southeast Asia: The Next Growth Opportunity in Defence," McKinsey Innovation Campus, Aerospace and Defence Practice, February 2014, file:///C:/Users/Lenovo/Downloads/SEA%20Defense%20Report%202014%20-%20Final.pdf,(accessed on October 13, 2017).
lxi"Military Expenditure by Region in Constant US Dollar, 1988-1996,"SIPRI, http://www.sipri.org/sites/default/files/Milex-regional-totals.pdf, (accessed on October 16, 2017).